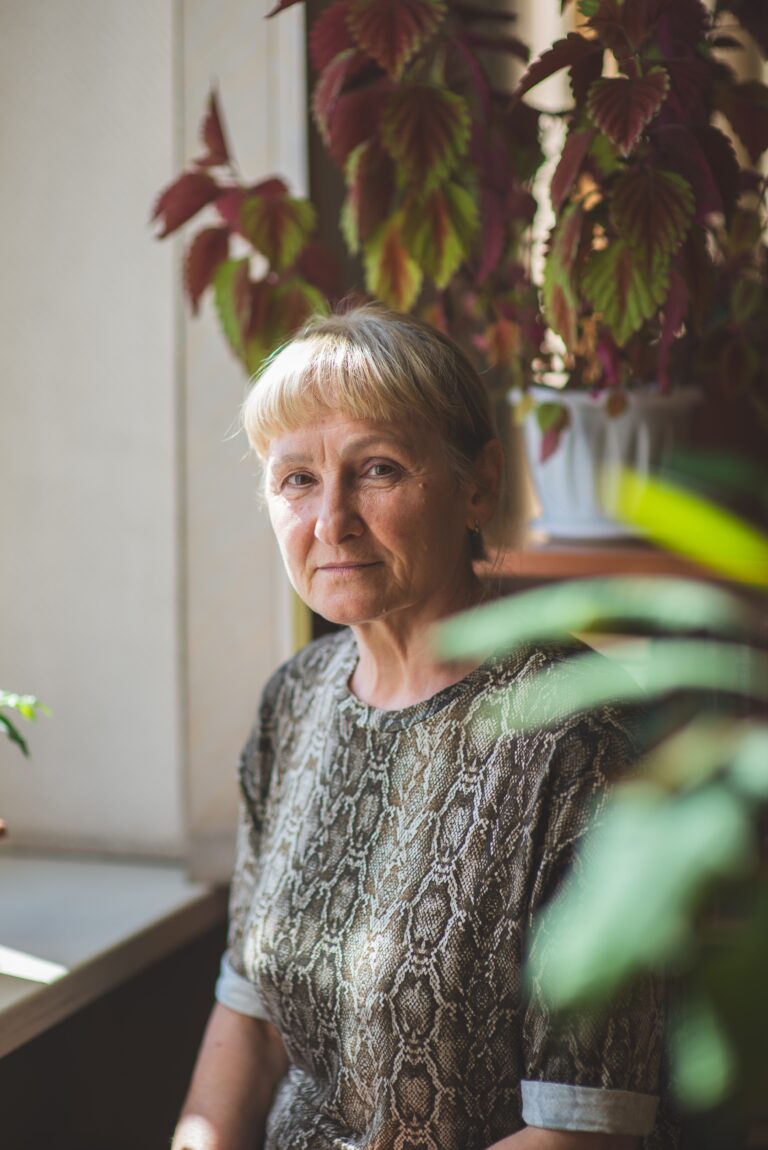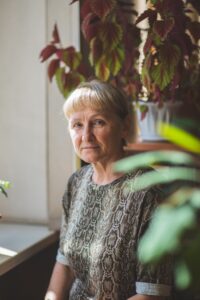 (How to deal with an elderly Narcissistic mother- READ/WATCH/LISTEN)
You thought Mom was a handful when she was in her prime. WELLLLLLLL, Just when you thought it couldn't get any worse.
SURPRISE!
Instead of softening with age and becoming a sweet old lady, if she has a personality disorder, chances are good that she's turned into the wicked witch of the west (my apologies to all self-respecting witches), seemingly hell-bent on your destruction- the destruction of your sanity, that is.
At least, that's how it feels sometimes. Demanding, entitled hardly covers it. And you seem to have a target on your back.  Haven't you sacrificed enough for her?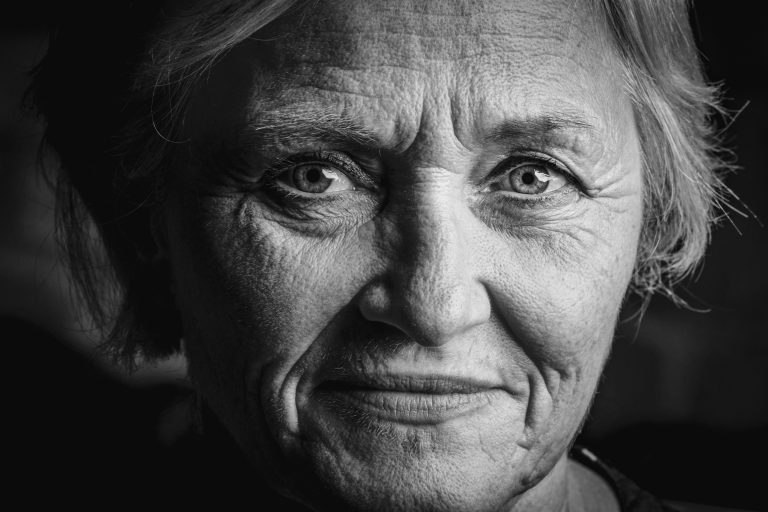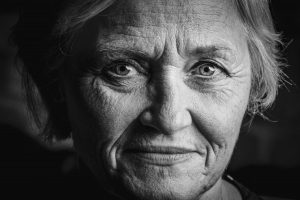 You never guessed it would get worse as she aged. You might have even fantasized she would wake up one day and realize all you have done for her.
But, alas, no such luck.
Instead, she is demanding as ever and oblivious to your needs. So now you wonder how to deal with an elderly Narcissistic mother.
When you aren't tearing your hair out in frustration, you either feel sorry for Mom or guilty for thinking such angry thoughts about a woman who is in her last season of life.
You've been a good daughter, giving until it hurts and then some. When will it be your turn?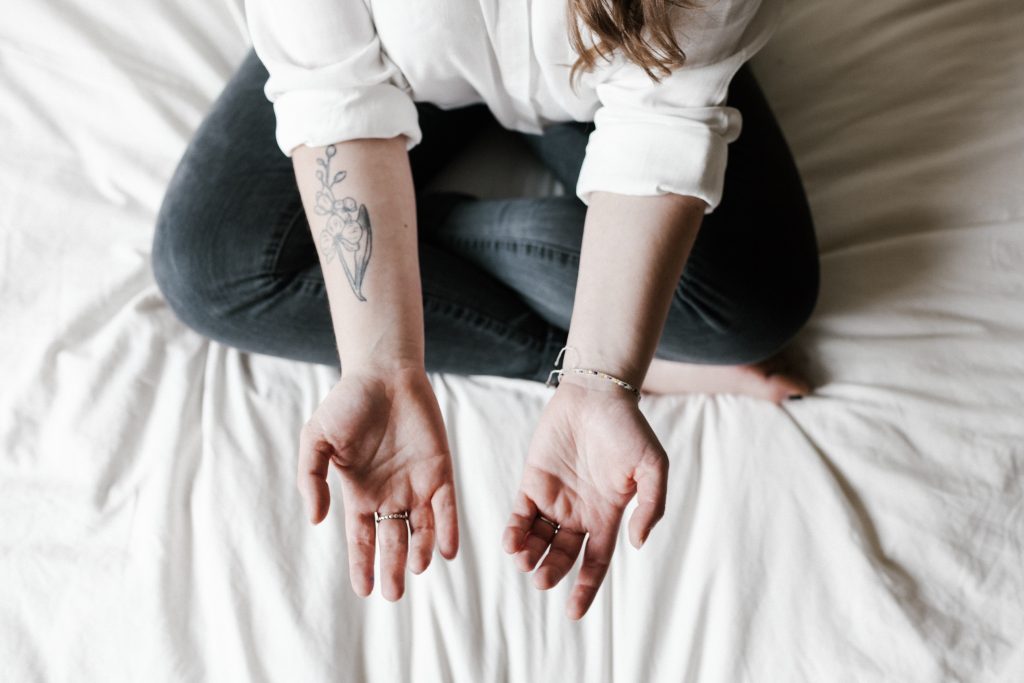 While no one can tell you precisely what to do, I can give you some tips that have helped my clients navigate these treacherous waters.
Let me take a moment to acknowledge- if you have sought out my advice, I know you are hurting. After years of feeling appropriated, parentified, and basically taken from in your relationship with your mother, you are justified in the fury you feel when your Mom and the culture expect you to step up and give when you weren't given to.
I get it-
Your tank is empty, and everyone around you expects you to come up with compassion and love when Mom hasn't made any deposits. But, instead, you are drawing on an overdrawn account, and there is no one to tell. You can feel so alone in your distress.
If you take nothing else from this article, please take this one thing in- in my view – you have no obligation to give to someone who didn't give to you.
Everything that follows in this article needs to be your choice.
Believe it or not, some clients experience long-hoped-for growth and confidence as they navigate this final chapter with Mom.
It is possible,
And how?
They realize they are no longer going to live only for their mothers and that their needs count too.
And my dear, take it from someone who has been there… you are going to need a plan, a well-thought-out strategy.
Without one, you are dead in the water. If you thought she was difficult growing up, that was just the minor leagues.
Mom has had much more practice than you have in getting her way, and she will pull out all the stops in her last act.
And don't be fooled if Mom's outward behavior trends more towards the victim martyred type… yet she is still entitled and self-absorbed; a covert narcissist can be more manipulative than an overt one.
How to deal with an elderly narcissistic mother – 12 tips to get you through
First-  Understand what you are up against.
Is Mom narcissistic, borderline, or histrionic, or does she have tendencies of these disorders?
If so, the traits which make up personality disorders rarely soften with age.  If anything, they are likely to get worse. When you educate yourself about these disorders, you will know what you are up against and be better prepared to handle them.
Aging itself is a narcissistic injury- we all have a degree of healthy narcissism inside of us and feel insulted by the ravages of aging. The wrinkles that seem to appear overnight, the stubborn weight that won't come off no matter what, the lack of mobility… it's a challenge for all of us to work through.
For the narcissist aging is the thing they are least psychologically equipped to handle.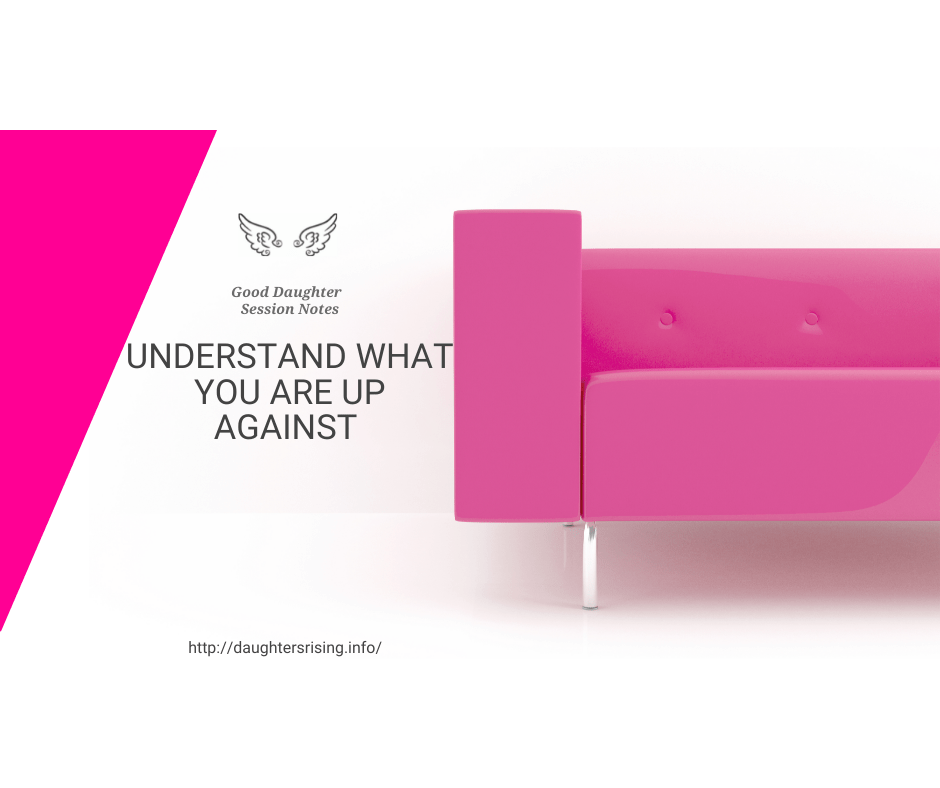 1) Hope for the best but plan for the worst.
You are better off assuming things will get progressively worse because aging and all that comes with it usually follow a downhill trajectory.
However, When you plan for the worst, you won't constantly be playing catch up to the latest disaster.
With planning and forethought, you might even be able to get out in front of it.
She may become compliant.
Then when she gets it and really gets it that you are firmly in charge ( probably for the first time in your relationship). The thing is, you have to reverse the roles you've always played. You are the leader, the one with the power, and she is the follower.
Whatever, you won't be on the other end of her whims and demands. It is unsustainable, and you will burn out.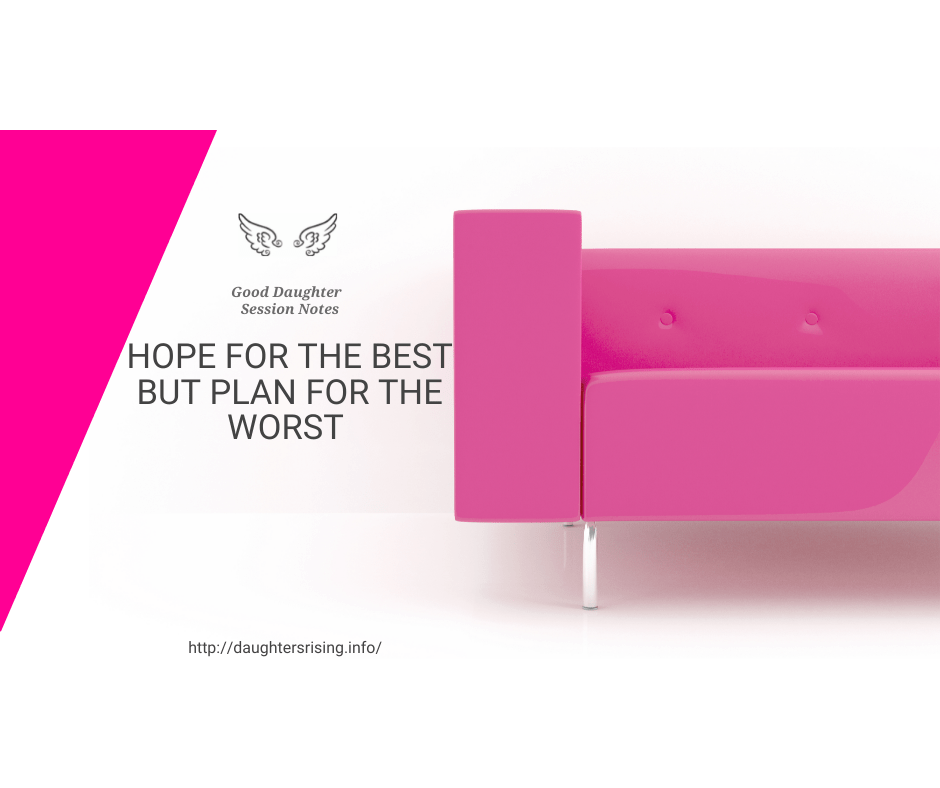 2) Look out for your own best interests.
Chances are Mom hasn't been looking out for your interests for a very long time.
Yes, of course, that's part of the problem.
This is the time to step out of any denial and advocate for yourself. Again this is an opportunity for you to grow as a person.
Besides, no one else will do it for you if don't look out for yourself you. So you are better off facing this truth and acting from there.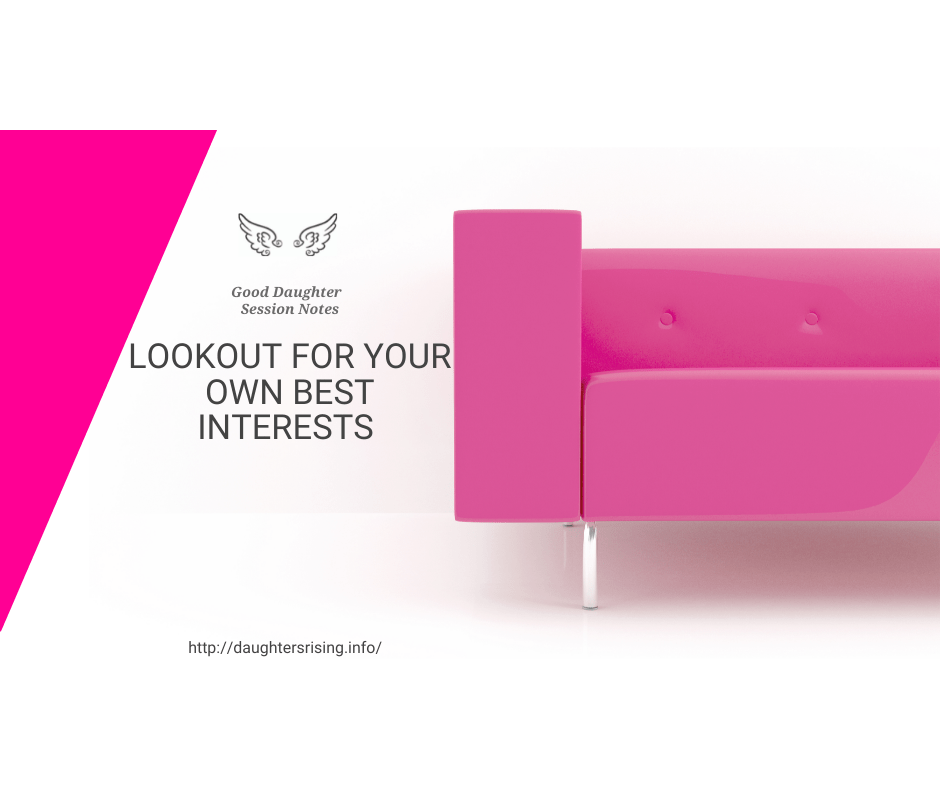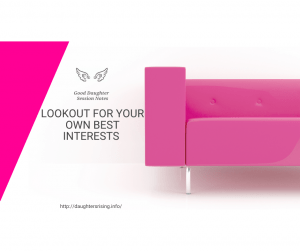 3) Make peace with yourself and your decisions.
Get together with a therapist, a trusted best friend, or a partner, and sort out what role you want to play, if any, in your mother's dotage.
Don't fall into the cultural myth that Mom was there for you; now, you must be there for her.
If the truth is.. if Mom was critical, neglectful, or even abusive, the cultural expectations don't apply to you. Your childhood was different, and you need to factor that in.
Pray about it, meditate on it, and then make a plan and stick to it.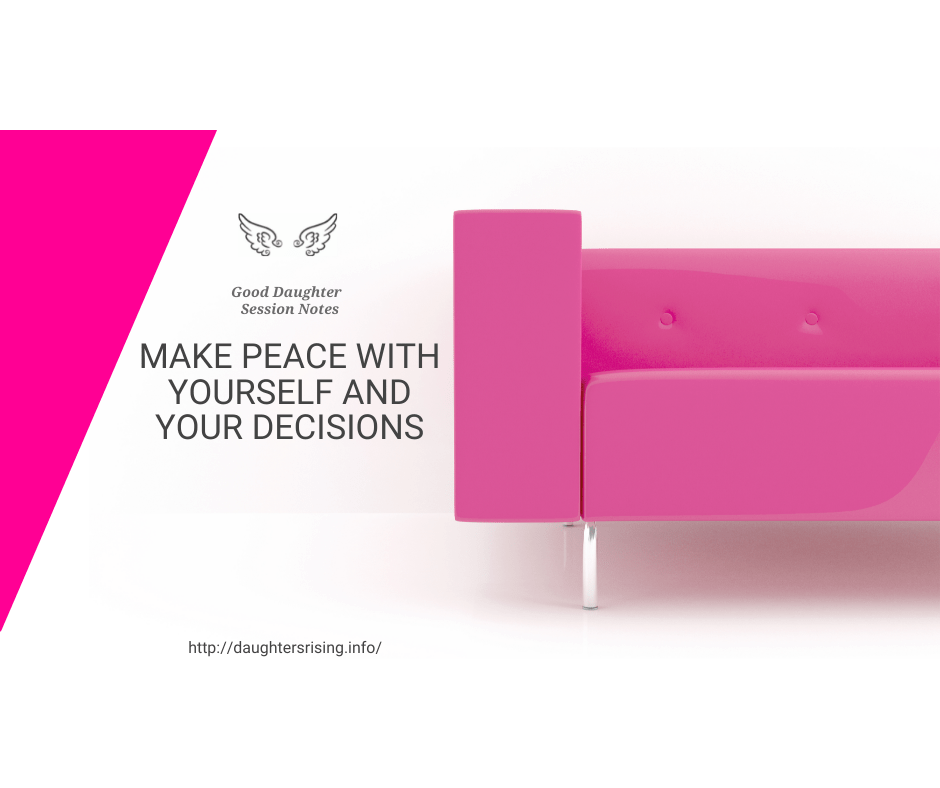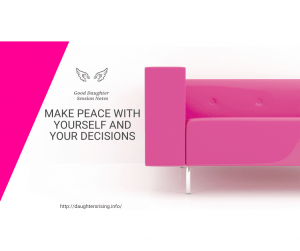 4) Take charge of the situation and be proactive.
Instead of jumping when she says jump, plan your visits and phone calls when it fits your schedule. Take yourself out of a reactive stance as much as possible.
A proactive stance is always better than a reactive one.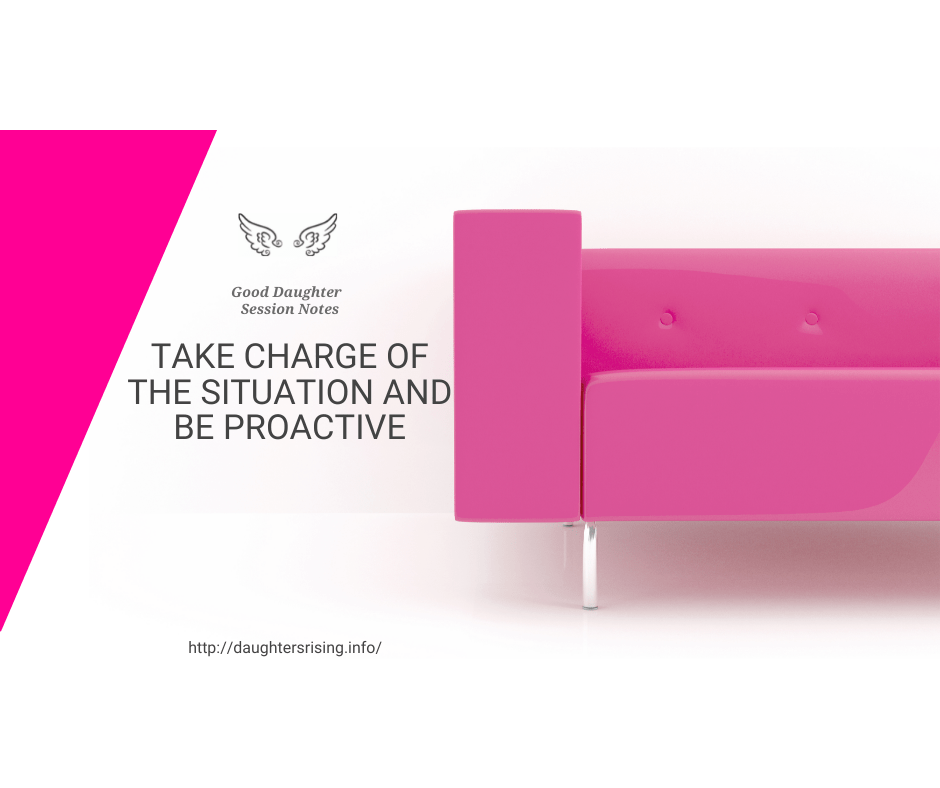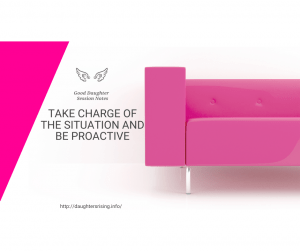 5) Don't be a martyr.
I've seen daughters sink into the victim role and get comfortable with being the child who remains at Mom's beck and call.
As hard as it is to face, there are no pots of gold at the end of that particular rainbow.
It isn't good for your mental health, and it sucks the life out of you.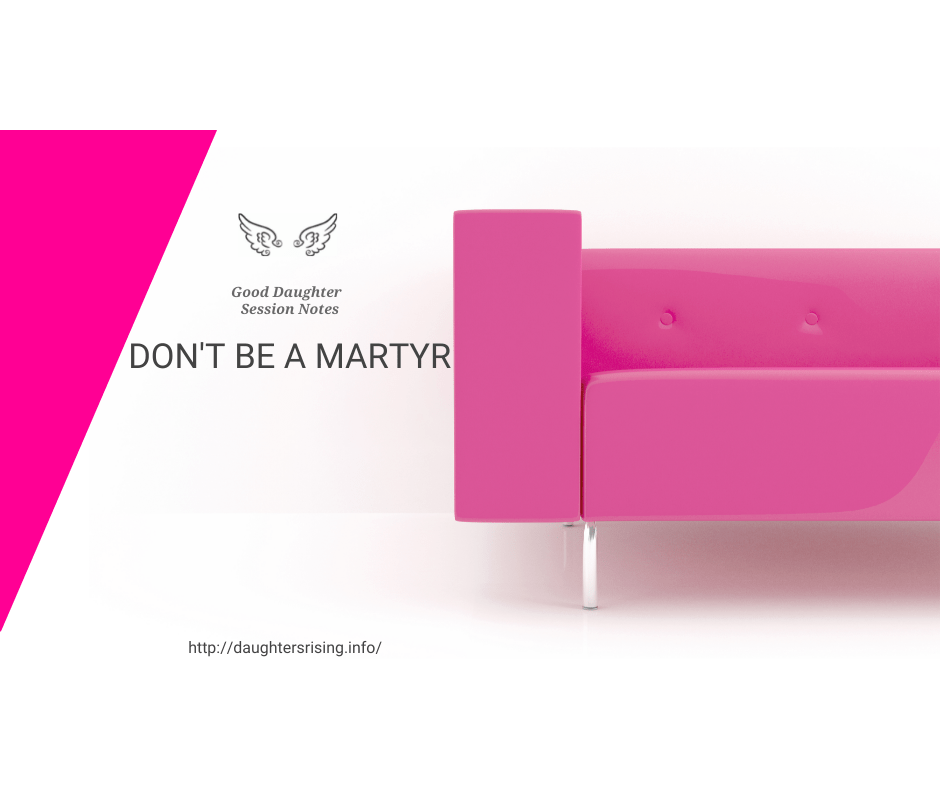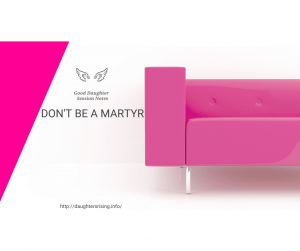 6) Don't leave your sibling out of all the fun :).
Just because you've always been the one to deal with Mom in the past doesn't mean you have to be the one to take all responsibility for her care now.
I know asking your sibling to participate is easier said than done… but if you don't speak out, the chips will fall where they've always fallen- in your lap.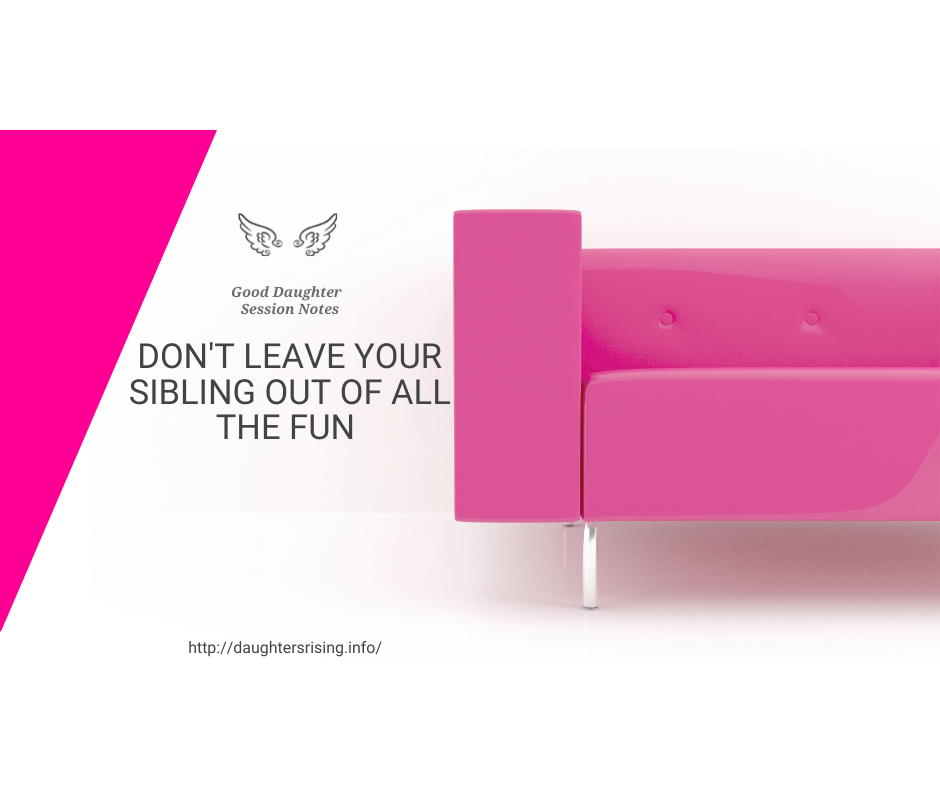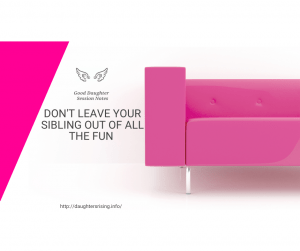 7) Get help outside the family… if you are able.
While caring for your Mom may be unpleasant to unbearable,  chances are it doesn't cost a paid caregiver the same way it costs you to deal with her.
If you can pay someone to check in on her, run errands, and do some of the work so that you don't get burnt out.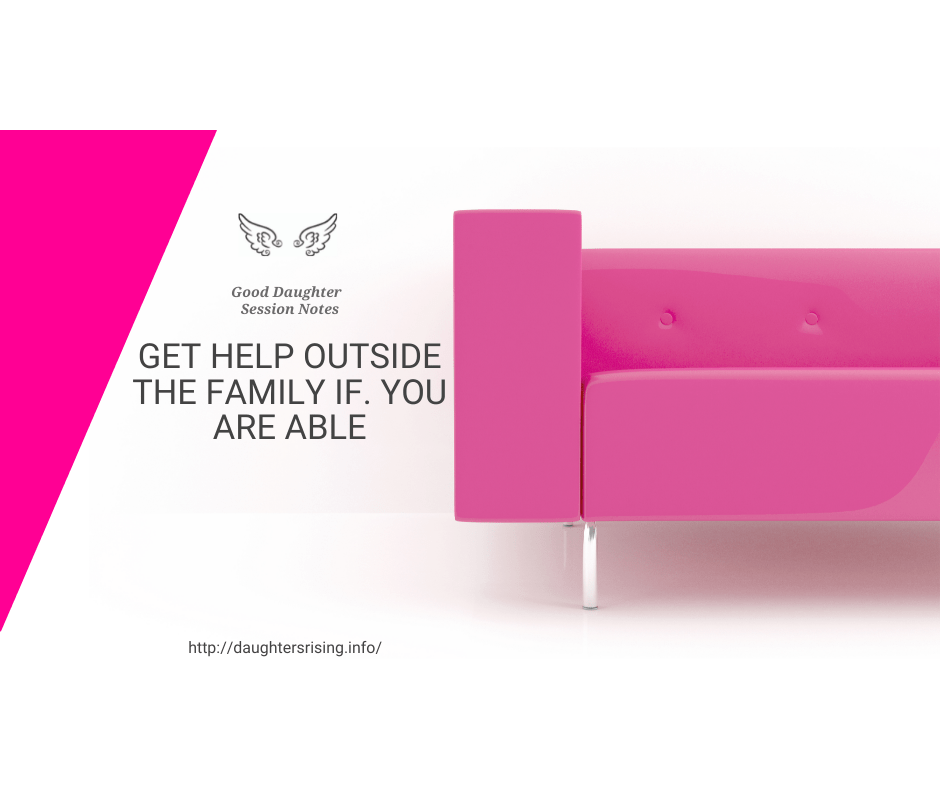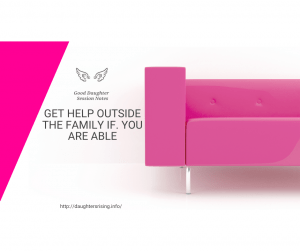 8) Expect Mom to resist help but don't let that stop you.
Mom may resist having anyone outside the family help her. However, it drives home the fact that she can no longer take care of herself. I know there is a disconnect here: she doesn't mind calling you at all hours, yet she is in denial that she can no longer live independently.
I see this dynamic with my clients and their elderly narcissistic mothers ALL THE TIME.
As long as she has you doing her stepping and fetching, she can stay in her denial bubble.
And guess who gets to pay the price?
You, that's who.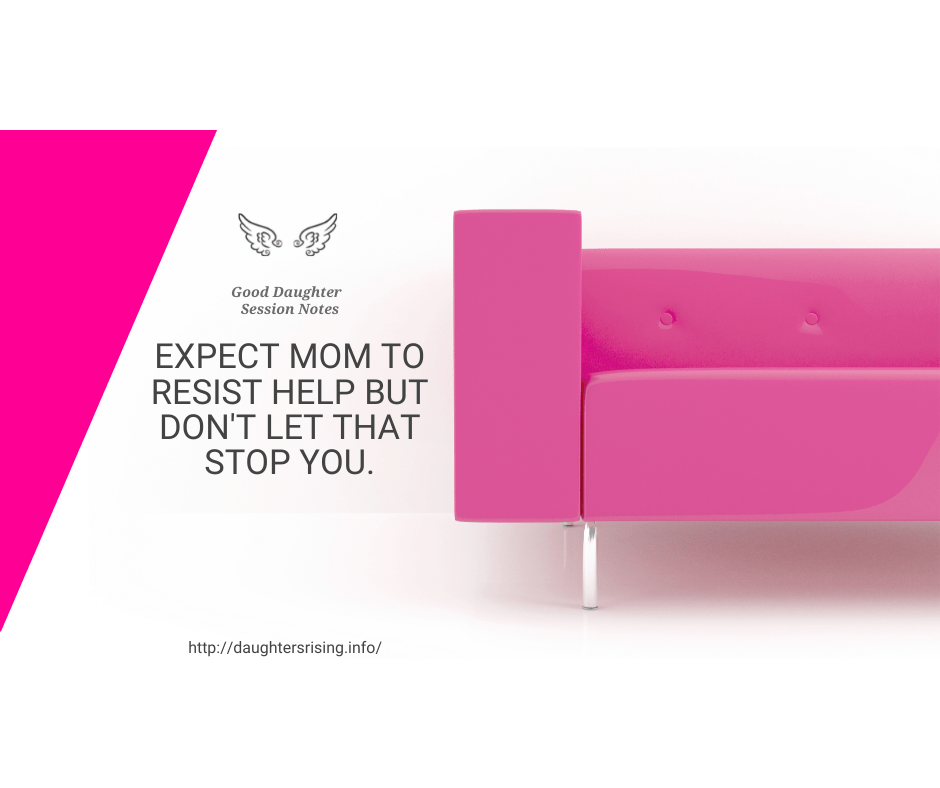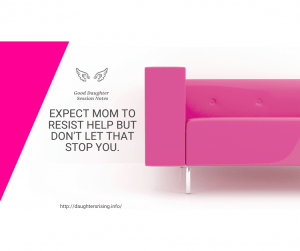 9) Realize it will never be enough for Mom.
Don't be surprised if Mom takes and takes from you without being satisfied. Assume she will be a bottomless pit of need.
If you begin there, you can plan without chasing the hopeless idea that she will be satisfied if you try hard enough.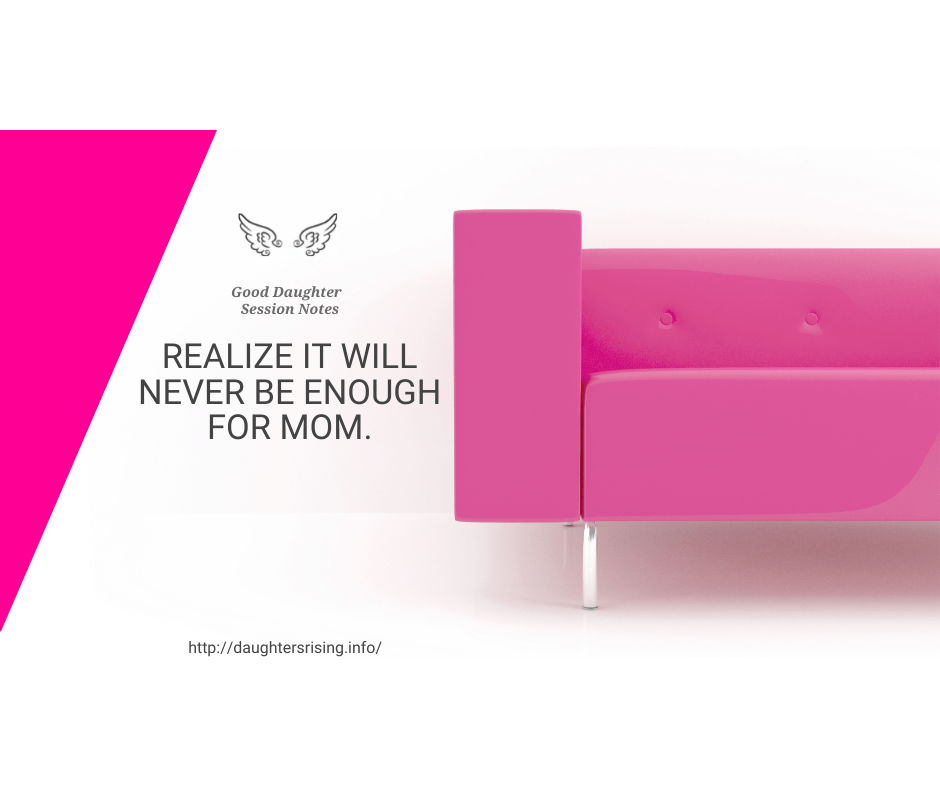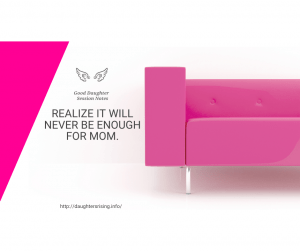 10) Let yourself matter, for once.
Mom isn't looking out for your best interests.
So that's your job now.
The truth is, she was probably incapable of looking out for you… that's been the problem all along. But now, with the stresses of old age, she is even less likely/capable of keeping your interests in mind.
The temptation is to endlessly count up how she is unfair, thoughtless, and unfeeling, yet it won't get you anywhere- at least not good.
Now more than ever, it is time for you to decide to protect yourself.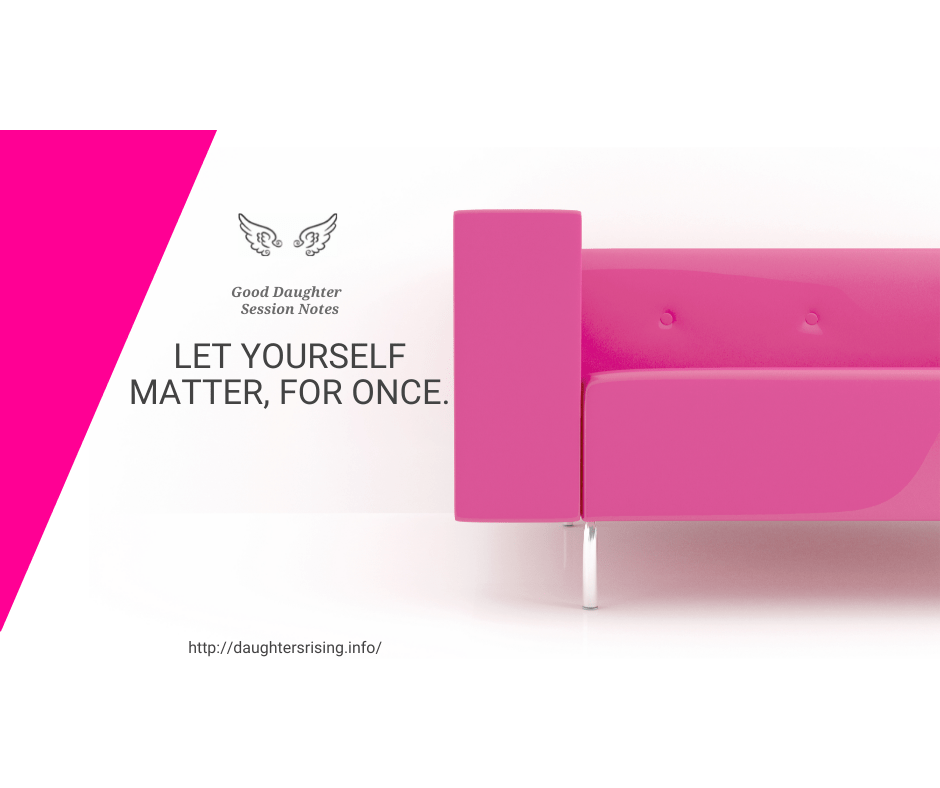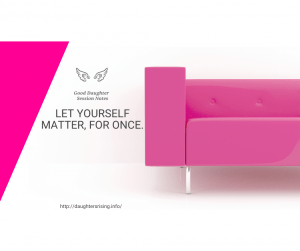 11) Don't just "take" the abuse.
What we don't pass back, we pass on.
If you "take it" from Mom, you are at risk of either internalizing it and becoming depressed or passing it on and traumatizing someone else.
Intergenerational wounding happens when one generation is traumatized, doesn't get help, and traumatizes the next generation instead of stopping the cycle.
Vow to see the abuse stops with you.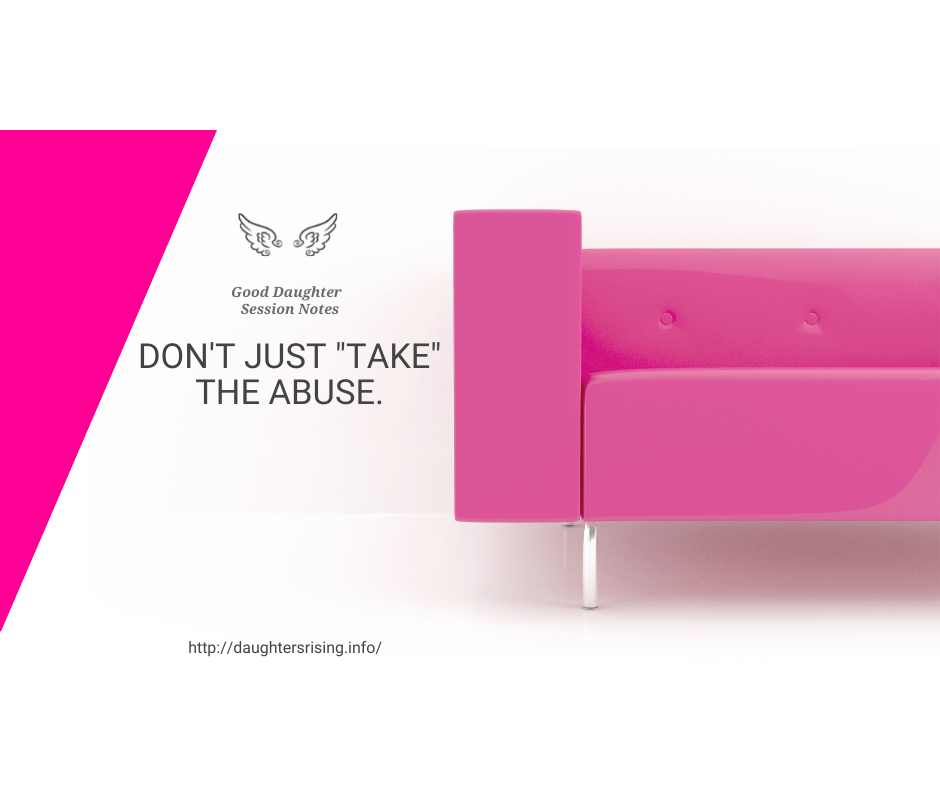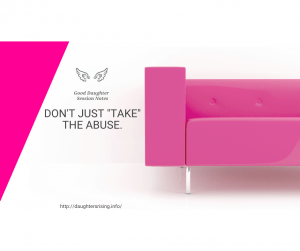 12) Don't lose sight of your life outside your relationship with Mom.
At the end of your mother's life, make sure you still have a life.
Don't let the relationship you have with her take over.
Instead, realize your time, attention, and care are valuable… even when she doesn't value you.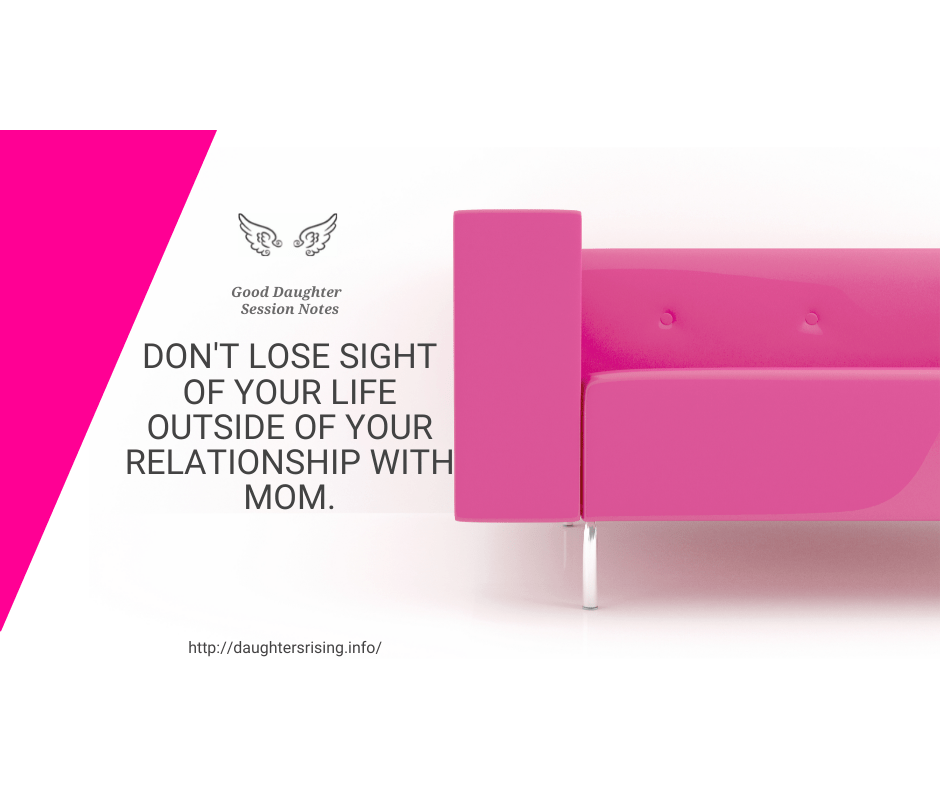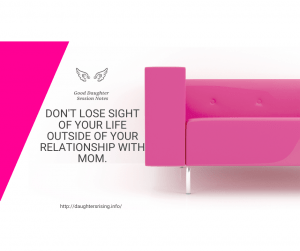 Hold close to the people who value you, replenish your soul, and make time for them. Take time for yourself and know you are growing and stepping into your own. It's never too late.
Here's your new reality 
You may need to limit how much time and attention you give her to preserve yourself. Serving yourself up as a human sacrifice doesn't do anyone any good.
Sadly, a narcissistic Mom won't notice or care. That's the good news and the bad news.
Only you will know what caregiving costs you.
You aren't a little girl seeking Mom's approval; you are a grown woman making adult decisions based on reality.
There is power in that.
Feel it!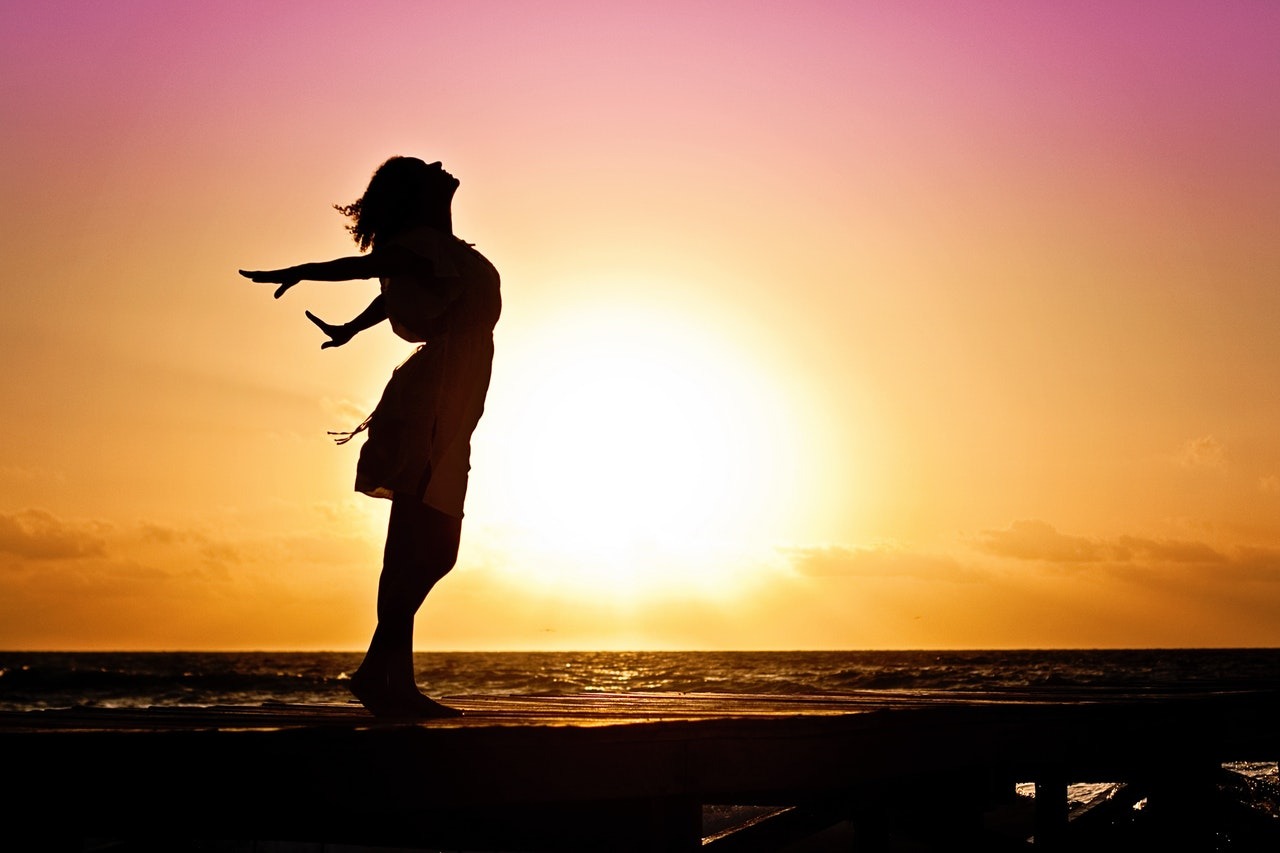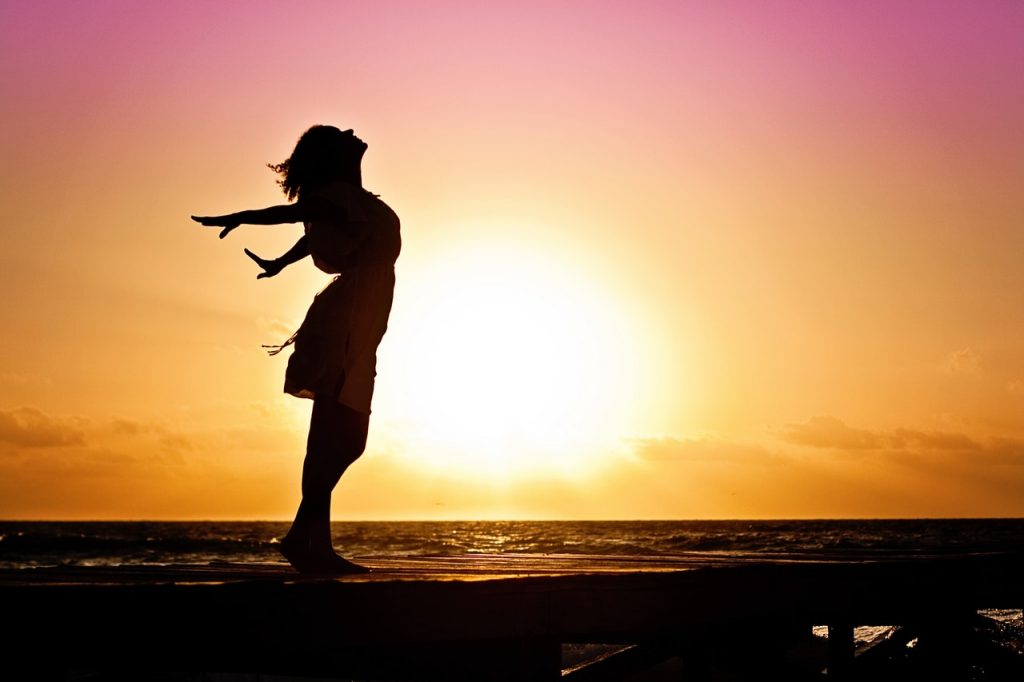 You can get out in front of this.
You don't have to let Mom take you down with her through her negativity.
You don't have to take the bait when she starts in on you; answer any questions you don't want to answer or listen to any lectures you'd rather not hear.
Mom needs you now, not the other way around.
Let that sink in.
It's never too late to learn what underlies your mother's problematic behavior, set boundaries, and move forward with your life.
It can be a hard patch for sure, but you can use the challenge it presents to flex (or find) that empowerment muscle ( even if you didn't know one was there).
Hard times can also be clarifying.
This is your moment. Use it wisely.
If you want me to coach you through it, go here.
(Audio of the post_
To find out if you are the Good Daughter – take the quiz. It's free.
---
Frequently Asked Questions:
No, but you can burn yourself out by catering to her demands.

Although it is possible that narcissistic mothers mellow with age, they will most likely get worse.

Get support and set limits by stating upfront what you can and cannot do for her.

The defenses that make the elderly narcissistic Mom difficult become more extreme as she copes with the stressors of aging.

Aging brings on both loss of control and increasing vulnerability,- so she ramps up her narcissistic defenses against this losing battle. It doesn't work but it makes her more demanding.